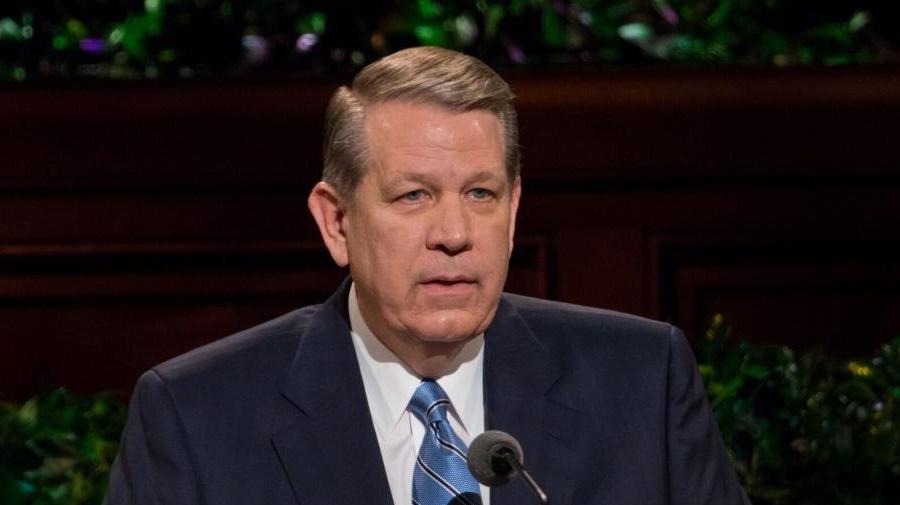 Hi there all, from this session I am going to spend a little time specifically looking at 1 talk from this session and a theme that arises from it.
This talk caught my eye as I have been listening to a lot of talks and debates in evangelical circles lately about supernatural or spiritual gifts, and the issues as to whether they are still in effect today, I believe they are which makes me a "continuationist" and many great Christians who I have nothing but respect for think they are not, and they often use the title "cessationist" as a label for this.
The Mormon church I think it's very safe to say would be call itself a "contunuationist" movement, Mormon's talk a lot about receiving personal revelation, and the seventh article of faith states:
We believe in the gift of tongues, prophecy,

revelation, visions, healing, interpretation of tongues, and so forth.
Now, I think when Christians consider in whose name or by what power any miracles, or gifts, or healing's or works of faith are carried out, they would generally give the same answer, "In the Name of Jesus", or the power of Christ, or the power of God etc.
Here are a few examples from the Bible to give examples of what I am saying:
Acts 4:29-30 And now, Lord, take note of their threats, and grant that Your bond-servants may speak Your word with all confidence, 30 while You extend Your hand to heal, and signs and wonders take place through the name of Your holy servant Jesus." 31 And when they had prayed, the place where they had gathered together was shaken, and they were all filled with the Holy Spirit and began to speak the word of God with boldness.
James 5:14  Is anyone among you sick? Then he must call for the elders of the church and they are to pray over him, anointing him with oil in the name of the Lord;
This also applies to casting out demons:
Acts 16:18 She continued doing this for many days. But Paul was greatly annoyed, and turned and said to the spirit, "I command you in the name of Jesus Christ to come out of her!" And it came out at that very moment.
Even giving commands to Christians in scripture.
2 Thessalonians 3:6 Now we command you, brethren, in the name of our Lord Jesus Christ, that you keep away from every brother who leads an unruly life and not according to the tradition which you received from us.
The point I am making is that when we see acts of power or healing being carried out in the New Testament they are made specifically in Jesus name, I think the reason for this is clear, in that it is that Christ Himself is the source of all of the power we rely on as Christians and ultimately the power through which all things were created, and He is the person for whom all things were made, in the heavens and the earth.
Colossians 1:16 For by Him all things were created, both in the heavens and on earth, visible and invisible, whether thrones or dominions or rulers or authorities—all things have been created through Him and for Him.
So what is my point in all this? During Hallstrom's talk he said something that caught my eye:
Similarly, Elder David A. Bednar once asked a young man who had requested a priesthood blessing, "If it is the will of our Heavenly Father that you are transferred by death in your youth to the spirit world to continue your ministry, do you have the faith to submit to His will and not be healed?"
It's a blink and you might miss it thing, but this young man whom it sounds like is dying, asked for a priesthood blessing and in response he is told you may or may not be healed, which means that the young man was asking for a priesthood blessing, in the hope of healing from it.  To someone from an evangelical background, this might seem strange, why wouldn't he just ask for prayer for healing you might ask?
This goes further in an April 2010 General Conference talk by Apostle Dallin H Oaks:
Many scriptures teach that the servants of the Lord "shall lay hands on the sick, and they shall recover" (Mark 16:18).6 Miracles happen when the authority of the priesthood is used to bless the sick. I have experienced these miracles. As a boy and as a man I have seen healings as miraculous as any recorded in the scriptures, and so have many of you.
It's the authority of priesthood that heals, isn't that interesting as compared to the New Testament:
Acts 3:16 "And on the basis of faith in His name, it is the name of Jesus which has strengthened this man whom you see and know; and the faith which comes through Him has given him this perfect health in the presence of you all. 
In Mormonism it is the power of the priesthood in the New Testament it is the power of Jesus name by which we are healed, and this goes much deeper than that.
Now I know that many Mormons reading this will be saying to themselves:
"You don't get it Bobby they are the same thing, the power of Jesus name is the power of the priesthood!"
Now the answer to whether that is true or not is found in a simple question, and that is,
Is Jesus the all-sufficient creator of everything, with power in His own right to create, save and heal, or is He a being that started out with limited power and authority and had to be exalted to a position to which He did not hold previously and be given that power?
If Jesus is by nature sufficient, powerful and glorious He needs nothing to be given to Him, if He has gained His power and glory from an external source? What is it?
In Mormonism that external source is priesthood authority, or priesthood power. It's the power by which God created all things, as we see in a general conference address in April last year by Apostle Russell M. Nelson.
Think of this: the priesthood conferred upon us is the very same power and authority through which God created this and numberless worlds, governs the heavens and the earth, and exalts His obedient children.3
I once had some Mormon missionaries in my living room and I asked them the question, do you think it's possible that one day you could be as great as Jesus? One of them confidently answered: Yes!
Now I know many Mormons if not most, reading this would not have said that, and I know in the Mormon theological framework we will always be subject to Christ within our own future kingdom should we be exalted, so this missionary I would say even within the Mormon framework is mistaken, however he said yes for a reason, I think Joseph Smith in the now, long out of print work the history of the church helps us find this reason.
"If a man gets a fulness of the priesthood of God, he has to get it in the same way that Jesus Christ obtained it, and that was by keeping all the commandments and obeying all the ordinances of the house of the Lord" (Joseph Smith, History of the Church 5:424).
Jesus Christ obtained this priesthood, He obtained the power to create, He obtained the power to heal, this states by following the commandments and obeying the ordinances of the house of the Lord, which I can only assume but I think I am correct means by going to the temple on whatever world he was on, and going through the endowment and carrying out baptisms for the dead etc, on whatever world He was on as a mortal.
Many Mormons might not phrase it this way today, however the logical implication of how the priesthood works, and how we can hope for our exaltation today extends to this for us and so rightfully it would have to for Jesus as He is not eternal.
In the Mormon framework we are all eternal in that one day if you go far back enough we were all "intelligences" awaiting our spiritual body so we could then await our physical body in order to go through our mortal probation, and hopefully progress to our exaltation as our Heavenly Father did, so when I say Jesus is not eternal in Mormonism, I mean in this sense, in that if you go far back enough we were all in the same place.
The power of God, or any power in Christ's name is not eternal, the only power that is eternal in Mormonism is the priesthood.
Now in the Bible we never see anything close to this in terms of the priesthood being an external, eternal power through which God created all things, we simply see a God who has power by virtue of who He is.
Hebrews 1:3 And He is the radiance of His glory and the exact representation of His nature, and upholds all things by the word of His power. When He had made purification of sins, He sat down at the right hand of the Majesty on high,
Colossians 1:17 He is before all things, and in Him all things hold together.
In the early church I am not aware of them having any concept of this either but I am open to correction on that if anyone wants to let me know.
Even the word Priesthood generally refers to a position someone holds that gives them certain authority to act as a go between, between men and God, which is why in the Old Testament it was the priests that went into the temple offering sacrifices to God on behalf of the people in order to connect the people to God.
This role is no longer necessary as we now have one mediator between God and man who is Jesus, (1 Timothy 2:5). That is a big theological area which I appreciate I am really quickly covering, however nowhere in the Old Testament would the term priesthood be connected with the power by which the world was created, this is something completely new brought in by Joseph Smith which cannot be found in the Bible or early Christianity.
This is not a belief that was held straight away in the Mormon church, I believe there in no mention of any of this in the Book of Mormon, and one of the three witnesses to the Book of Mormon, David Whitmer expressed problems with Joseph Smith's developing ideas of the priesthood in his book An Address to All Believers in Christ.
This is a massive issue which can often get forgotten about when discussing issues such as the nature of God, and salvation which are of course massive, however for Mormons the issue of priesthood authority, priesthood blessings, and priesthood power are fundamental to everything in their faith, not only their power to act and their hope of salvation, but also God's power to act and create, this is probably the best example there is of a perfectly fine concept such as priesthood, being turned into something false and offering no hope.
The Mormon church bears the name of Christ, and makes mention of His name in so many areas, but strips Him of His power and glory and makes it an external thing which He obtained by obedience, and thus we all can.
Mormons I would ask you please explore this and by all means come back to me with your comments.