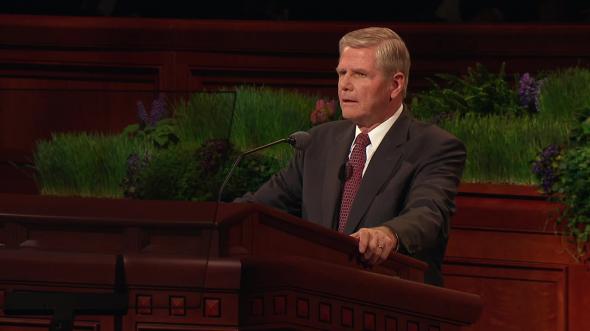 Having listened to the message by Elder Mervyn B. Arnold (of the Seventy) given at the General Conference, I felt compelled to action.
His message entitled 'To the Rescue: We Can Do It', was a clarion call to reach the lost sheep. Quoting Matthew 18:11 and 14:
"The Son of man is come to save that which was lost. …
"[For] it is not the will of your Father which is in heaven, that one of these little ones should perish."
Elder Arnold spoke of rescuing 'less-active' and 'non-member' LDS friends.
His was an emotional, stirring and challenging talk and I couldn't help but be drawn in to the need to share the Gospel whilst we have the chance.
I was reminded of the hymn:
Rescue the perishing, care for the dying, Snatch them in pity from sin and the grave; Weep o'er the erring one, lift up the fallen, Tell them of Jesus, the mighty to save.
Rescue the perishing, care for the dying, Jesus is merciful, Jesus will save.
Sadly, as much as I was agreeable to much of what was said in this discourse, Elder Arnold's message was not about pointing people to, and leading people to Christ but rather bringing 'lost people' back to, or into, the Church of Jesus Christ of Latter Day Saints, which is something altogether different!
Though speaking to a LDS audience, much of what he says in terms of the urgency of the Gospel, can be agreed upon by Bible believing Christians. There is an urgent necessity to tell people about the Lord Jesus Christ. But what must be shared is the Biblical Christ and the Biblical Gospel, neither of which can be found in the Church of Jesus Christ of Latter Day Saints.
Surely the words of the Apostle to the church at Galatia, are as much relevant to the LDS, as they were to those to whom Paul wrote:
I marvel that ye are so soon removed from him that called you into the grace of Christ unto another gospel: Which is not another; but there be some that trouble you, and would pervert the gospel of Christ. But though we, or an angel from heaven, preach any other gospel unto you than that which we have preached unto you, let him be accursed. As we said before, so say I now again, If any man preach any other gospel unto you than that ye have received, let him be accursed.  Galatians 1:6-9
 Elder Arnold shares a number of personal stories, both tragic and joyous. In doing so, he moves his hearers to consider the mission to which, he claims, they have been called.
He speaks about his mother who visited, ministered and encouraged lost ones back into the fold. It is very challenging when we find such determination, desire and enthusiasm amongst those in falsehood, but find only apathy amongst those who truly profess to know Christ. Shouldn't those who have been truly born again of the Spirit of God have the same passion for the lost?
For those who may claim 'I cannot do it' or 'It is not my gift', Elder Arnold uses the example of Moses to point out that you can do it, as Moses did, because it is God who equips.
The Elder then shares stories and principles that he claims, will help in the rescue effort.
Using an emotive and tragic true story of lives lost at sea because of a delayed rescue, Elder Arnold shares the reaction of Elder Alejandro Patanía, whose brother Daniel sadly lost his life in the story. Elder Patania is said to have compared the tragedy to the words found in Ezekiel 34 verses 4 and 10:
, "Ye [have] not strengthened, … [or] brought again that which was driven away, … [or] sought that which was lost; … and I will require my flock at [your] hand."
Although it is right that all Christians should look out for each other, Ezekiel 34 is a challenge specifically to the shepherds, not the sheep. Shepherds are to look after their flocks, having a special concern for the lost, the sick and the weak sheep.
Elder Arnold though applies Ezekiel 34 to all his hearers challenging them not to delay in going to the rescue, because there will be consequences if they do.
A call to rescue implies an imminent danger and/or peril, but let us consider how the LDS and the Bible believing Christian understand this danger.
For the Latter Day Saints, people need to be rescued, not because they are not saved – to the LDS all are saved, but rather people need to be rescued because they are not part of the one true 'restored' church. If you are not part of this 'restored' church, you cannot reach exaltation.
What is exaltation?
Exaltation is eternal life, the kind of life God lives. He lives in great glory. He is perfect. He possesses all knowledge and all wisdom. He is the Father of spirit children. He is a creator. We can become like our Heavenly Father. This is exaltation. (Gospel Principles – Chapter 47)
So you are saved as a lapsed Mormon, you are saved as a non-Mormon, but you cannot reach your full potential if you are not a Mormon. To get to the celestial kingdom, where Heavenly Father dwells, and become a god like him, you need to be following all the laws and ordinances of the Mormon gospel; not forgetting the endorsement you need from Joseph Smith:
"No man or woman in this dispensation will ever enter into the celestial kingdom of God without the consent of Joseph Smith…every man and woman must have the certificate of Joseph Smith, junior, as a passport to their entrance into the mansion where God and Christ are" – Prophet Brigham Young, Journal of Discourses, v. 7, p. 289
With this context in mind, we see that Elder Arnold's call to rescue is not what it might appear to hearers outside of the LDS fold.
For the Christian, the call to rescue means something very different. People 'outside' of Christ are in imminent danger.The Bible teaches that we are all sinners in rebellion towards God:
For all have sinned, and come short of the glory of God.     Romans 3:23
 Wherefore, as by one man sin entered into the world, and death by sin; and so death passed upon all men, for that all have sinned.  Romans 5:12
Sin brings with it death and judgement. Everyone will stand before Heavenly Father to give an account of their life.
And as it is appointed unto men once to die, but after this the judgment… Hebrews 9:27
We will stand before Heavenly Father clothed in our own 'righteousness' or clothed in the 'righteousness' of another. The Bible does not speak well of our own righteousness:
But we are all as an unclean thing, and all our righteousnesses are as filthy rags…  Isaiah 64:6
To stand before Heavenly Father on the basis of our own righteousness is a fearful thing, for we are not made right with God on the basis of our own righteousness, but on the basis of Christ's righteousness.
But after that the kindness and love of God our Saviour toward man appeared, Not by works of righteousness which we have done, but according to his mercy he saved us, by the washing of regeneration, and renewing of the Holy Ghost; Which he shed on us abundantly through Jesus Christ our Saviour; That being justified by his grace, we should be made heirs according to the hope of eternal life.          Titus 3:4-7
Only Christ can rescue us from the imminent danger. To trust in Christ alone is to have eternal life.
Verily, verily, I say unto you, He that heareth my word, and believeth on him that sent me, hath everlasting life, and shall not come into condemnation; but is passed from death unto life.
John 5:24
Those who trust in their own righteousness, have not passed from death to life and so remain condemned, with their destiny being outer darkness.
The Mormon gospel is another gospel, a false gospel, a gospel that cannot save. Elder Arnold's challenge to his LDS hearers was to rescue the lost, but who is going to rescue them?
To the Christian:
How then shall they call on him in whom they have not believed? and how shall they believe in him of whom they have not heard? and how shall they hear without a preacher? And how shall they preach, except they be sent? as it is written, How beautiful are the feet of them that preach the gospel of peace, and bring glad tidings of good things!       Romans 10;14,15
To the Mormon:
"Therefore, by the deeds of the law shall no flesh be justified in his sight; for by the law is the knowledge of sin." Romans 3:20
"Therefore, we conclude that a man is justified by faith without the deeds of the law." Romans 3:28
For by grace are ye saved through faith; and that not of yourselves: it is the gift of God: Not of works, lest any man should boast.  Ephesians 2:8,9